Web Design Tipperary | Website Development
FULL SERVICE DIGITAL AGENCY IN TIPPERARY
Pixelweb -Increasing Your Online Presence
Pixelweb is a creative web design agency based in Tipperary, Ireland.
My clients include small businesses and social clubs, who are looking for creative ways to meet their business objectives. I mainly serve clients from and around Tipperary, Limerick and Clare, although I do have clients in Galway, Cork , Dublin, The UK and Spain as well.
Pixelwebs is a digital marketing agency that create stunning websites for clients.
My websites are designed to be visually stunning and compelling. They tie into your overall branding strategy both online and off.
Which industries do you work with most often?
My clients usually want to improve the performance and user experience of their websites. I am particularly good at doing so for a variety of different industries. Rather than focusing on one particular sector, I focus on providing web design and development best practices across all sectors.
Within these industries, I've worked predominantly with ecommerce web development, tradesmen websites, architects' websites, charities and non-profits, and the building industry.
As an expert in the delivery of digital services, I specialise in WordPress Website Design, Branding, eCommerce, Digital marketing strategy, CMS systems, and organic SEO.
Get in touch with me today!
Tipperary
Web Development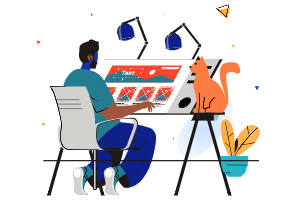 I design and build websites that work. Website design has changed over the years, and as your site is a reflection of your business, you need to have a modern website which will give your clients confidence in your business.
Tipperary
SEO
Search engine optimisation is vital for your business. For a website to be successful on the Internet you need people to be able to find it. Pixelweb Design have a track record of getting high rankings on search engines like Google. 
Tipperary
Local SEO
Local SEO listings are displayed in areas when a user searches and Google believes there are local businesses that are suitable results for that search term. 
Graphic Design
Your business logo & graphics reflect your business objectives and must speak strongly to your target audience. I will design a brand logo and graphics that will be unique and recognisable for your business.
Promotional Video
I use promo videos to make your products stand out from the crowd, boost your sales, and increase your profits. Increasingly, promotional film production is important for businesses of all types to engage with their audience.
Content Creation
Writing content is one of the most important aspects of any form of marketing and advertising. Writing copy consists of the words used by marketers to try to persuade people to take some kind of action after reading their content.
About Michael Collins - Pixelweb Design
My name is Michael Collins, and my goal is to design and build websites that function correctly and increase revenue to the client. I have a degree in Information Technology and a Masters in Internet Systems, both from Dublin City University. I also have qualifications in Electronic Engineering, Cisco, Pneumatic and Hydraulics.
I have been in business with professional design and development of websites, Search Engine Optimisation and Online Marketing in Ireland since 2003. I offer a broad range of services to help you reach your goals in your business venture. I live near Nenagh, Co. Tipperary in Ireland and my aim is to give you the full service you need for your business.
I operate a full service site development company specialising in the creation of websites, sales funnels and ecommerce sites.
My website designs are not only visually appealing, but they are also functional and easy to navigate.
My designs are also SEO optimized, so they will rank well in Google searches and drive visitors to your site.
Pixelweb Design: For all your web design, web development, graphic design and SEO requirements.